Collections
Archival Collections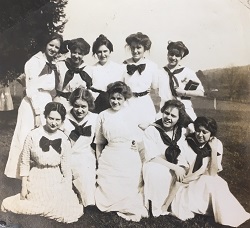 Archives and Special Collections holds more than 2,500 linear feet of records reflecting the institutional histories of Loyola University Maryland, Notre Dame of Maryland University, and Loyola Notre Dame Library. Records include:
Administrative university records such as the Office of the President records, records documenting the history of academic departments, and records of other departments such as Athletics, Career Services, and Student Engagement
Student organization records and other materials documenting the student experience
Photographs dating from the early days of each university to the present
University publications
Architectural drawings
Ephemera and scrapbooks
Memorabilia
Rare Books
Our rare book collection contains over 4,000 volumes dating from the 14th century to the 20th century. Strengths in the collection include:
Our fore-edge painted book collection, one of the largest in the United States
19th-20th century British and American literature (including Gerard Manley Hopkins, Virginia Woolf, Evelyn Waugh, Edith Sitwell, Flannery O'Connor, Henry James, and William Faulkner)
Philosophy, theology, and religion, including a rare Bible collection and the works of Baltimore Catholic printers and publishers
European and American History
Many titles have not yet been cataloged. Please contact Archives and Special Collections to learn more about our holdings in a particular subject area.
Special Collections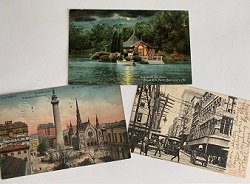 The Archives contains a small but rich collection of manuscript materials and special collections. Highlights include the David P. Patterson manuscript collection and several collections of American theatre playbills. Collection guides can be searched in ArchivesSpace.