The Innovation Station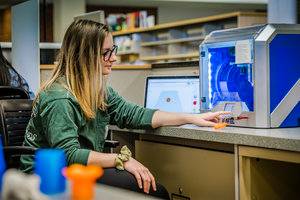 The Innovation Station, a makerspace located on the main level of the Library, offers technologies for exploration, creation, learning, and invention.
All equipment is available to Loyola University Maryland and Notre Dame of Maryland University students, faculty, and staff.
Prerequisites:
Submitting a print request, makerspace technology reservation, or Maker Information and Agreement Form qualifies as your expressed agreement to the policies and terms and conditions as outlined in the Makerspace Information and Agreement Form.
You should:
You may:
For direct assistance with the Innovation Station, email Technology Services or call 410-617-6862.
The Innovation Station features:
Makerspace Technology Reservation