Help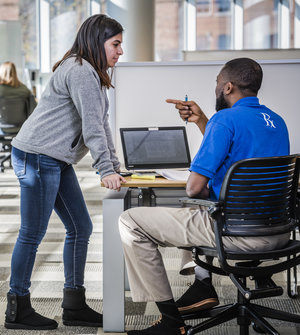 Need some help with your research? Contact librarians through Chat, email, by phone, or visit in person.
Schedule a meeting with library staff for research assistance, copyright information, or to learn about the library's Makerspace.
Use a Research Guide to find in-depth information on how to research a subject or to learn how to use library resources.
Borrowing policies for Loyola Notre Dame Library materials for students, faculty, staff of the Universities, and other borrowers. Includes information about Interlibrary Loans and Borrowing from Other Libraries.
How to remotely access electronic resources and get physical materials for users who are based at other campuses or are distance students.
The Copyright Information Center is a program that provides education about copyright to faculty, staff, and students at Loyola University Maryland and Notre Dame of Maryland University through online help guides, individual consultations, and workshops.
Learn about services that support instruction like course reserves, digitization assistance for course management systems, and using media in the classroom.
The Library offers sessions within classes in information literacy and copyright. Archives & Special Collections supports instruction through primary source materials. Pop-up classes highlight specialized technology information in a format conducive to active group learning.
Library services and equipment for users with disabilities.